Flymazon organizes fishing travels, and its crew's members participate to various fishing trips in Amazonia. We invite you to join us. Though we are specialized in flyfishing, we also know very well the other techniques. So all fishermen are welcome.
OUR DESTINATIONS
The Suia-Miçu lodge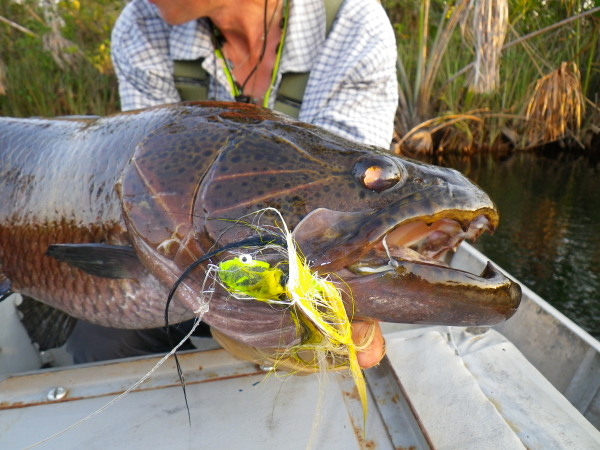 In the Mato Grosso state ( Brazil), close to the native tribe of Suias reserve, a complex of lakes, tributaries of clear water, spring-creeks, in the middle of the rain forest, is waiting for your visit.
the adversaries are named: peacock-basses, giant trahiras ( sight fishing and nymphing possibilities), payaras, piranhas, pacus and also giant cat-fishes of Amazonia...
Housing in a comfortable inn with all acomodations, lavaundry, tasty and abundant food, free non alcoholic and beers, and english spoken.
18 feets boats equiped with electric motor, and native guides are for two fishermen.
6 days of full fishing
On reach there with a little plane from The city of SINOP ( Mato Grosso)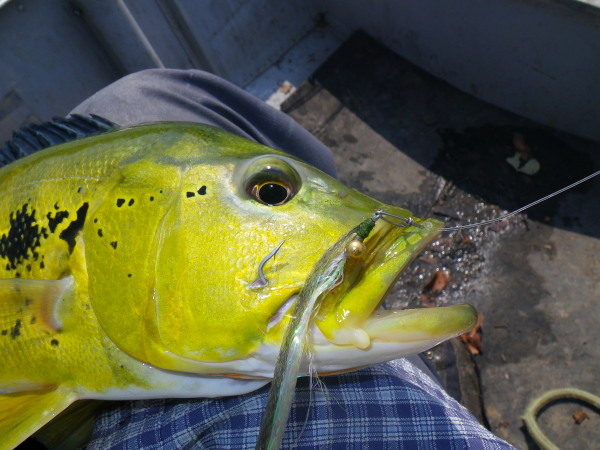 HOUSE-BOATS: Rio NEGRO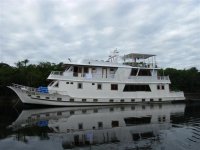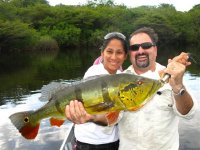 Giant peacock-bass fishing in the rio Negro and its tributaries.( October to april)
Boat convenience, double cabins with air-conditioned, private bath and toilets, excellent food, satellite tel, Satellite TV, sound system, non-alcoolic drinks and beer free.
6 m aluminium boats, with 30 hp motors and electric motor, native guides formed to flyfishing.
New for 2016/2017
An other house-boat, smaller with only 4 air conditionned double cabins, private showels and toilets, and the same comfort and attention of the crew than on the bigger one. With this smaller boat, we'll can reach to lower parts of the rivers, where neither other bigger boat can go.
Of course, the rates are proportionned to the smaller size of the boat, but not to the quality of the services of the crew and guides.
the new 8 places houseboat. The Demini




Baby tarpon fishing in French Guiana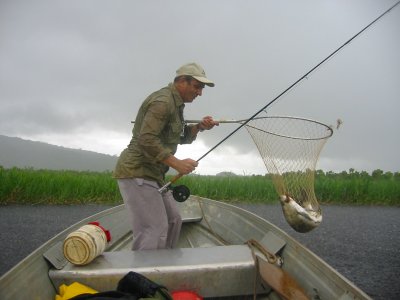 Baby-tarpon fishing on a coastal spring-creek in an ecologic reserve, during the rainy season ( january to early july). Many fishes and non-stop action.
Lodging in comfortable with all acomodations bungalows, excellent food, navette from and to airport.




GIANT TRAHIRA FISHING IN FRENCH GUIANA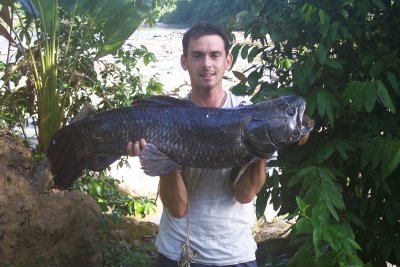 Maybe the largest trahiras of the planet ( IGFA record location). Fishing in currents, and down the rain-falls of the Sinnamary River, in the heart of the rain-forest. Lodging in comfortable bush floating camp. Excellent food. Navette from and to airport of Cayenne.






Exclusivity Flymazon
Fishing in native indian reserve.( from june to late october)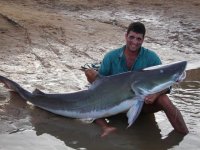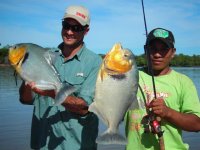 Lodging.in an authentic amazonian native village. Huge abundance of fishes: peacock-bass, payaras, bicudas, trahiras, giant cat-fishes, etc. All technics: fly-fishing, spinning, bait-casting... And this year: a new tribe: The Ikpengs....
New for 2016/2017
Rio Trombetas lodge
( from august to late january)
The Trombetas river is an amazonian black-water stream flewing in the middle of a virgen rain forest. In an alternation of streams, large pools, falls, ponctuated by boulders and sand flats; fishing of the largest variety o amazonian species: peacock-bass up to 20 lbs, giant trahiras, bicudas, payaras, piranhas, pacus, and also giant cat-fishes.
The lodge is very comfortable, with double rooms, with private shovels and toilets, good and abundant food, beverage illimited, native guides, etc...
Aluminium flat boat motorized by 25/30 hp motors, etc.
You have to go to Manaus. From Manaus a littleplane will carry you to the fishing place.
giant peacock-bass of the Trombetas river


The Trombetas river
giant trahira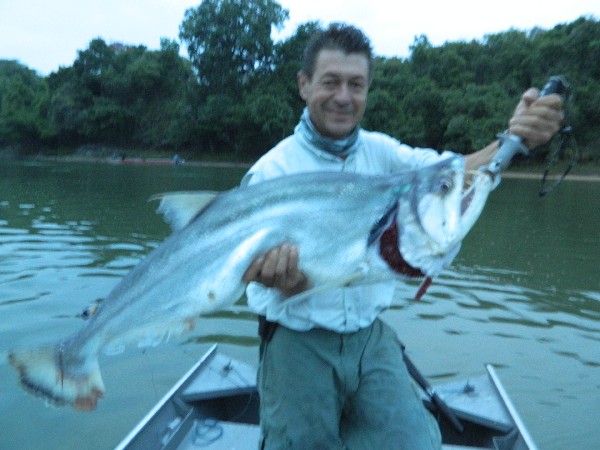 a 20 pounder payara