THE JACUNDA
crenicichla s.p.p of the cichlid family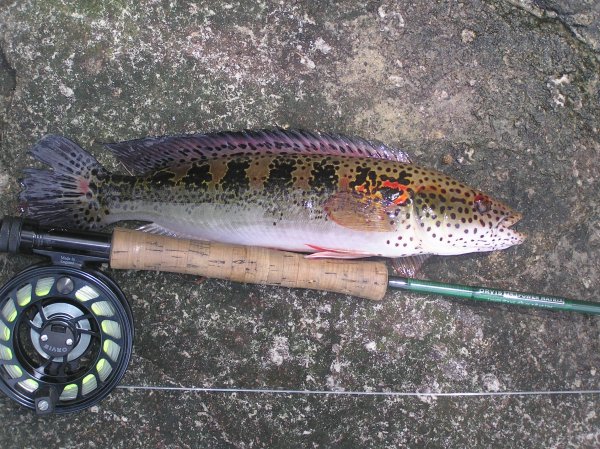 This aquarium hobbyist's fish is present in all types of waters: still, in the currents, sometimes taken up position on the edges of the rivers like trouts of which he has the same voracity and agressivity.The extraordinary beauty of its coat ranging from black to pale pink, passing for all shades of yellow orange and green, makes of the capture of this worth fighter, despite its modest size that doesn't exceed 35 to 40 cm a funny remembrance.
The tackle:
A 5 to 6 range rod would suit perfectly, but in Amazonia, it's better to take some precautions. Indeed, peacock-bass, trahiras, bicudas, arawanas used to stay in the same places than our nice fish. Also is it more safety not going below the number 8. A floating fly line will be perfect.
The technique:
The jacunda is mainly an incidently catch when targeting other species more interesting. However, in some small tributaries whose tea coloured water and topography remember some salmonids rivers of our northern countries, that sometimes shelter huge populations of jacundas, it becomes possible to realize countless number of fishes by sight nymphing, using little streamers or bonefish flies.
The flies:
Fry-looking streamers, clousers, surf-candies in size n° 1/2. Models for bonefish also are excellent patterns.