THE SARDINATA
Pellona castelnaeana ( yellow sardinata) pellona flavipinnis ( white sardinata)
of the cupleidae familly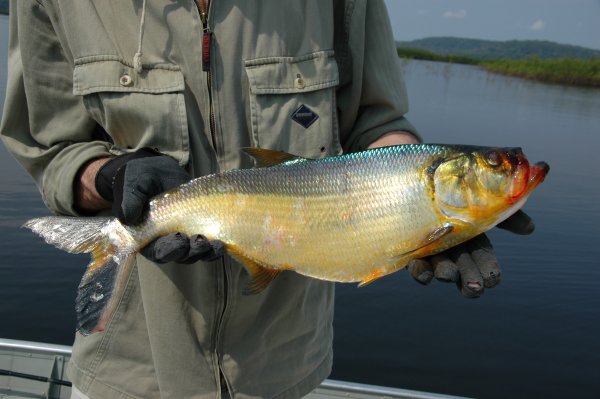 One cousin of the tarpon in Amazonian rivers. Also known in Brazil as apapa, it's the only freshwater member of the cupleidae familly. It exists two species with similar behaviours: the yellow, which colour is slightly golden, also he largest and the white which colour is rather silvered. The sardinata is mainly found in running waters, principally at the tail of fast currents where it feeds with baitfish. It's is a nice game fish, extremely agressive, which attacks very well the streamers, and is fairly easy to hook. Once localized a feeding school, it's non-stop action. Once striked, it struggles as a devil in holy water. The sardinata evokes the baby-tarpon in many points: by its morphology, although its colour is a little more golden, and its intense alimentary activity. But, however, it's not always easy to find. Some days, you find it, but mostly you don't. It averages five to ten pounds.
The tackle:
A n° 8 rod is perfect for this fish which generally confines to the middle of the river, and whose main defense is to leap everywhere without trying to use saving vegetations and other underwater structures, with an unusual power reminiscent more that of a marine fish than a freshwater's one.
The reel will be a bonefish/baby-tarpon type with an effective brake and a good length of backing. The line will be floating or intermediate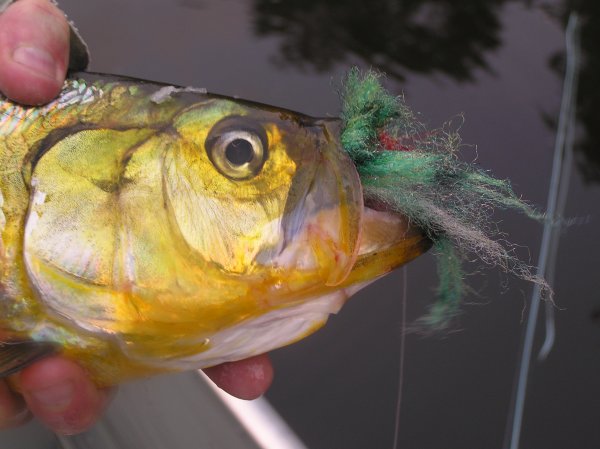 a bulky fly is not a problem...
The technique:
Those who know baby-tarpon fishing will feel at home. Look for the manifestations of fishes, easy to localize by splashy hunts to the surface, and cast close to them, or in the immediate areas. It's better to strip the fly quickly.
The flies:
surf-candies, clousers, bonefish flies ( style crazy charlie), imitations of fries.
NB: the rainy season is a prime period for the sardinita.